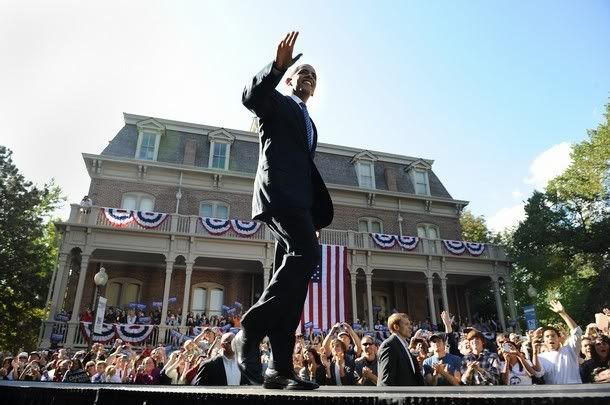 Barack in Reno, Nevada

••

Midnight Deadline to Donate to the Obama Campaign for the Month of September




If you donate 30.00 or more you can get that wonderful Obama/Biden t-shirt, guaranteed to be delivered to you by, October 17th. Click here.




Again, yard sign guaranteed to be delivered by October 17th.

Or, donation of 55.00 and you can get an election day pack!! This includes the T-Shirt, lawn sign and car magnet. Your gear will arrive no later than October 17th. Information, here.

Or, tip my Obama Jar!!! If you like my diligent work for Obama, show my jar some love!!

••

Early Voting Has Started in Ohio



Locations for where Ohioans need to go per county is here.

Obama Campaign lookup tool is here.

Again, you can register to vote and vote at the same time September 30-October 6, 2008. Deadline for registering to vote is October 6th. Let's work hard to turn Ohio, BLUE!!!!!

••

Bruce Springsteen, "The Boss" playing in Philly, Saturday for free

The Obama campaign has just announced that Bruce Springsteen will play a free, acoustic, set on the Parkway Saturday afternoon. The stated purpose is to assist voter registration and volunteer efforts, and, indeed, to get "preferred" tickets you have to go to an Obama campaign office and sign up to volunteer. General admission is available via the web.

And did we say an acoustic set? So no E Street Band. Bummer.

For extra credit, tell us who will provide McCain with his musical theme?

Here's excerpts from the Obama release:

"...Bruce Springsteen an acoustic set at a rally on the Ben Franklin Parkway...

Free concert for Pennsylvanians will be huge opportunity to register voters and sign up volunteers; preferred tickets must be picked up at campaign offices. (click on link for full article)
••
McCain's VP decision is 'fundamentally irresponsible'
••
Large Crowds Greet Start Of Early Voting
Large crowds lined the sidewalk outside the Hamilton County Board of Elections offices in downtown Cincinnati Tuesday at they prepared to cast their early ballots.

Tuesday marked the first time in a presidential election year that Ohio opened early voting.

Several dozen early voters actually camped out in tents on the sidewalk overnight, braving the cold and rainy weather, so they could be among the first to get ballots Tuesday morning.

The early campers came prepared, even bringing a camp stove and making bacon and eggs before the Election Board offices opened at 7:45 a.m. Many of them were part of "Get Out the Vote" efforts by the Cincinnati NAACP, Urban League and Tri-State union locals.

The Hamilton County Democratic Party even held an impromptu rally in front of the Election Board entrance to encourage voters to cast ballots for Congress and various judgeship races.

The first voter in line to complete a ballot was NAACP Chapter President Chris Smitherman. He says the three groups intend on running charter buses through neighborhoods Tuesday and into October to get people downtown to both register to vote and cast their ballots. continue
••
and.................
Palin says she's the
'new energy'
New Obama Ad,
'Same Path'
Dem registration gap in
Pa. widens to 1.1M
Obama leading in the new Public Policy Poll in
Florida
Union Drops New Mailer In
Battlegrounds
Hammering McCain On Health Care
Early Voting:
Another Reason Why It Matters
Bailout ushers in the era of
Obama
••
Campaign Appearances
go to the campaign website front page, for more information
Tomorrow
Barack
La Crosse, Wisconsin
President Clinton
Orlando, Florida; Fort Pierce, Florida
Michelle
Kansas City, Missouri; Boulder, Colorado
Thursday, October 2nd
Barack
East Lansing, Michigan; Grand Rapids, Michigan
Home Page