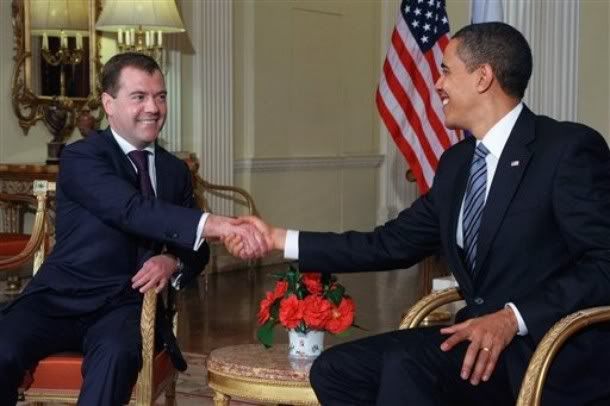 The United States and Russia committed Wednesday to resetting strained relations, as presidents Barack Obama and Dmitry Medvedev issued sweeping statements on global cooperation, including a headline-grabbing agreement to quickly negotiate a new treaty to limit nuclear weapons.

As they sat down for their first face-to-face meeting, Obama and Medvedev declared in their joint statements that the "era when our countries viewed each other as enemies is long over."

While agreeing to work overtime to negotiate a replacement for the seminal 1991 Strategic Arms Reduction Treaty, or START, which expires at year's end, the two leaders vowed at the same time to jointly confront other perceived threats. They specifically mentioned the nuclear programs in Iran and North Korea and al-Qaida militants who have found refuge in Pakistan.
I hope they can work together and work it out because Putin was not one to be trusted and Russia, always have one eye on your back dealing with them.
Both men directed their negotiating teams to finish the task of setting broad outlines for a treaty to replace START by the end of July. That conceivably would leave time to get the new treaty approved in the U.S. Senate by the December expiration of the current agreement. But arms control experts say December is not a hard deadline so long as there is progress.


"The parties have gone from words to action," said Sergei Rogov, the head of USA and Canada Institute.

RIA Novosti reported that Rogov believed quickly reopening arms-control talks "offers a real prospect that a new treaty will be signed before the year's end."

Rogov said that arms-control talks will help create "favorable conditions for reaching agreements on a host of other issues, including the Iranian nuclear problem and cooperation in fighting the Taliban and al-Qaida."

Currently, the United States has 2,200 strategic nuclear warheads deployed; Russia has 2,800. Under the subsequent 2002 Treaty of Moscow, a plan negotiated under the Bush administration, the two sides committed to reducing their nuclear warheads to between 1,700 and 2,200.

But that treaty did not establish its own system for verifying compliance; instead it said verification would rest upon the existing provisions of the START treaty. But if START expires in December without a replacement in place, the Moscow Treaty would be left with no legally binding system for verification.

Obama has declared his belief that the United States and Russia should take the lead in ridding the world of nuclear weapons altogether. Russian and American arms-control experts believe that the START replacement treaty would seek initially to cut strategic warhead arsenals to 1,500 on each side.
And Obama will visit Russia this summer
President Barack Obama says he has accepted an invitation from Russia President Dmitry Medvedev (dih-MEE'-tree med-VYEH'-dyev) to visit Moscow and will make the trip in July.

Obama was hailing a new agreement between the two leaders to reach a new nuclear arms deal before the existing treaty between the countries expires in December.
Source
AP
Home Page